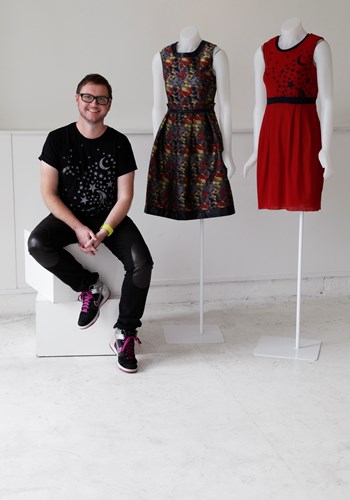 Vaughan Geeson - Bio
With a desire to create 'new' New Zealand fashion, Vaughan Geeson launched his women's wear label in 2008. A label which has quickly cemented itself firmly in the country's contemporary design landscape.
Open to inspiration from a variety of sources, the Auckland based designers collections evolve and take form from books, films, a love of travel, and from New Zealand's colourful place in the pacific. Combined to create an attitude that adjusts season after season, travelling from 1960's Northern English mods, to 1940s Blade Runner heroines, onto a Japanese sunset, then off to a picnic at hanging rock. All the while the brands unmistakable handwriting remains firmly in place.
Fashion with a deliberate focus on lines that are clean, colourful and textured, vibrant and eclectic looks are created while being effortless and easy to wear.
"The clothes are designed to be worn by women with an everyday desire to look great with no compromise on lifestyle. Special clothes to be worn on special days - Everyday!"
The label is currently available in Boutiques through out New Zealand and in Kumamoto, Japan.